I got bored. Rewatched WeWin's subs for Geass R2 episode 5. Lulz ensued, caps were taken. And Suzaku is now My Lord Jesus, apparently.




SUZAKU IS ALSO SIR TREE.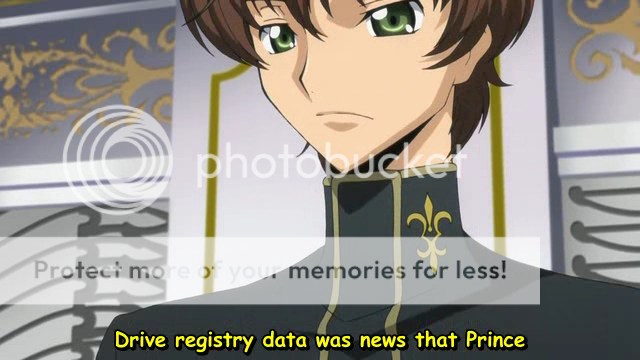 Rivalz is the one saying that, actually.


That is the best way I've seen his name spelled so far. LOLOOOOOOOOOO.


I believe 'Center' is referring to Zero in this case.


That entire conversation went by in about 15 seconds (starting from the I DON'T KNOW FACE or whatever bit). Can you imagine how confused I was? D:


(There were actually no children involved in this. Whatsoever.)


IN A BUN!!


And here is when the conversation begins to become completely unintelligible.


I WONDER WHERE MY NOSE IS UNDER THIS MASK. HMMMMM.


It took me a few minutes to actually understand what NAITOOBUSEBUN was supposed to be, wtf.


YES SONY MUSIC IS MAKING A CAMEO, SHADDAP.


PIERCE IT, RIVALZ, PIERCE ITTTTTTTT.


Oooh, Society of Paper. Sign me up. :/


It's getting hot in here--*shot*


I love the picture that accompanies this cap.


PSHAW. PSHAWWWWWWWWW


You and your genres.


ASSAULT THEM, MILLY! ASSAULT~~~~~~tildetildetilde


This is fucking moonspeak, man.


"Like your brother" is actually "onii-sama." GOOD JOB, SUBBERS.


ONII-SAMA? LIKE YOUR BROTHER?!


My god capping that was a BITCH, but god I love WeWin's subs of that. I could write an AU of the entire series using this episode's subs alone. IN A WORLD...WHERE THE REINCARNATION OF JESUS IS NAMED SUZAKU KURURUGI...WHO IS A YOUNG SIR TREE...

Edit: I fail.

Edit 2:
SairenHaria (11:10:57 PM): LOLO MURDERS THE POTATOES?!
SairenHaria (11:11:30 PM): THE GREEN HAIRED GIRL!
SairenHaria (11:11:34 PM): SHE IS FROM NEGIMA!
SairenHaria (11:11:38 PM): CROSSOVER!!!!!!!!!!!!!!!!!!